During the year we've had plenty of time to explore Melbourne's best playgrounds. I may be slightly biased to those in or around Coburg, but we have also ventured out to other suburbs.
In no particular order, these are some of our favourites!
Coburg Lake playground – Doug Hill Adventure Park
Maps: Doug Hull Adventure Park

There's a number of good playgrounds around the lake, but this one is a favourite because of the huge slides.
Maribyrnong – 'Black Sapphire Pirate Ship'
Maps: Black Sapphire Pirate Ship Playground
There's a huge pirate ship, what more can I say. Although the slides are also nice.
Royal Park Nature Playground (next to Childrens Hospital)
Maps: Royal Park Nature Playground
Probably the largest variety of climbing structures and slides around, and as a bonus there are some great views of the CBD to be had. In summer, there are also some nice water play features
Princess Park Adventure Playground
Maps: Princes Park Adventure Playground
Some good challanging climbing structures but also a separate area for younger kids to play. Great sandpit.
Albert Park playground

Huge playground with loads of connected wooden structures that the boys really enjoyed exploring.
Edwardes Lake Playground
Maps: Edwardes Lake Playground
First get yourself tired on the flying fox and the big slide, then recover by playing in the enclosed area for smaller kids with swings and sandpit – where the kids can't easily escape.
Ron Berassi Sr Playground
Two really big slides and fun water play features. This playground gets shade from the bridge in the afternoon, which can be nice on hot days.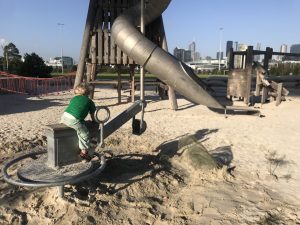 St Kilda Adventure Playground
Check to opening times carefully, but when open this playground is absolutely fantastic. If offers a bewildering variety of unique play structures, which is a nice change from some most of the 'standard' equipment that isn't typically as adventurous.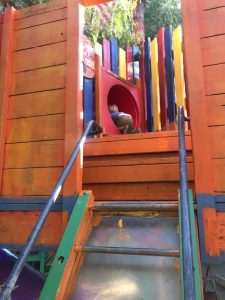 Indoor option: Don Bosco Youth Centre
Don Bosco Youth Centre & Hostel
Check the opening times carefully, but they offer trampolines, air hockey, table tennis etc for a good bit of indoor fun.
Bonus: Best Childrens farms:
Bundoora Childrens farm and viewpoint
The tractor ride is a favourite with the boys, but participating in feeding the animals is also great.
Collingwood
Fun farmers market and loads of opportunities for the kids to interact with the animals. Cuddling Guinea pigs and seeing the cows getting milked stand out as good fun.
Ceres Environment Park
Much more than just a childrens farm, the environment park also features a eco supermarket, live music every weekend and loads of fun events.